Kenneth
Kenneth was born to the streets of Park City on October 8, 2011. He was shivering in a snowy gutter when, luckily, a kind soul picked him up and brought him to Friends of Animals. He spent a long time recovering at the Friends Furburbia Ranch. They gave him the name "Ocho" since they all figured that he had lost at least one of his nine lives.
My good friend Sarah lived at the Furburbia Rescue Ranch and fostered "Ocho" while he was still small and sickly. No one thought that he would fully recover and be ready for an adoption. We were talking one day about my other cat Kovu (he now lives in sunny California with my former roommate Ben) and she suggested that I foster Ocho for a bit.
He quickly became Kenneth and our relationship only grew from there.
Zac Robinson
I never really was a cat guy. Until I found myself with 2 cats. After spending much of the last 8 years climbing rocks, I have started to discover many other areas of Utah and surrounding that I had previously neglected. With an expanded focus of destinations and activities, catting has become my preferred activity for most of my available time.
Proud mentor for Kenneth (Kenny) the orange cat and Ember (Emmy) the tortie.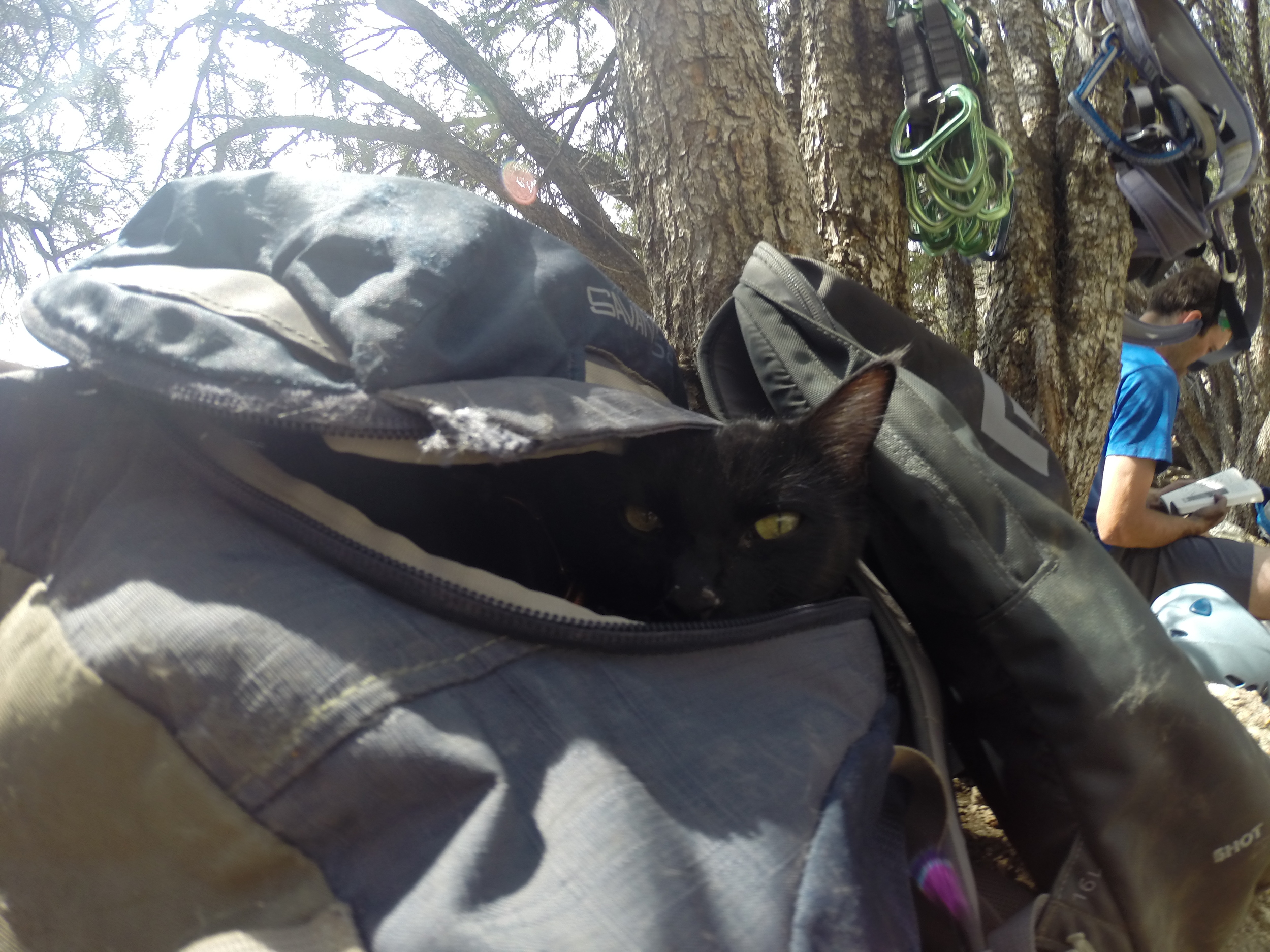 Millie
Millie is Kenneth's primary partner in adventure. As Craig and I started exploring more and more areas and taking more and more catting trips, weekends with both Kenneth and Millie became commonplace.
Millie started at Furburbia, the same shelter as Kenneth, but a year or so after him. Once rescued, her love for climbing became obvious. Screened windows, pant legs, chain link fences... anything she could find in the city was simply another challenge to overcome.
So we left for the outdoors. With full days dedicated to exploration, a willing partner and a patient crew of catters, she flourished. She echoes a bit of my own personality, desire to explore and a slight propensity away from crowds of people. We both have deep roots in the desert.
Craig Armstrong
Known on instagram as @Pechanga, Craig has been an influential partner from the start. We have been friends and climbing partners for years. One day, we both admitted that while we love to go on climbing trips with our friends to explore new areas, we really hated leaving the cats at home. Especially when other people would regularly bring their dogs. Without a reason to continue such behavior, we started bringing our cats along on our normal climbing trips.
Not too long after that, Craig and I simply started planning trips solely for us and the cats. And it was good.
Ember AKA "Emmy"
Ember is Kenneth's little, adopted sister (but they still give each other lots of kisses). She was born on July 22, 2014 and first met the rest of the family on October 22, 2014.
Emmy has been on a few smaller outings. It has been really great to see Kenneth coach her into more exploration, while she goads Kenneth on with her youthful levels of energy. She will be a great addition to the crew once she is fully ready for some long off-leash days.