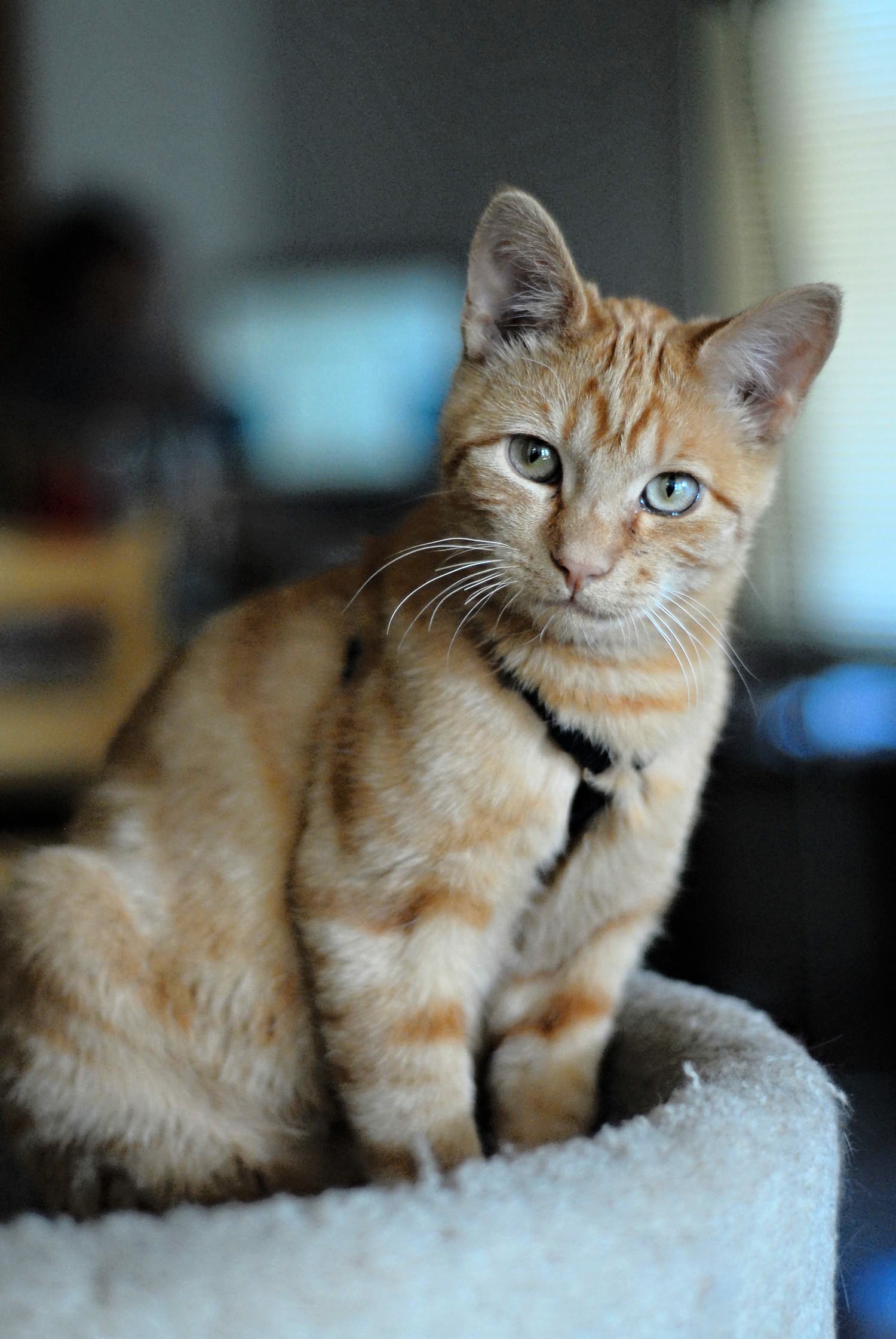 The Harness
One of the most essential pieces of equipment for any outing, we really shouldn't go anywhere without his harness. There are a few different styles that you can find but there are a few important aspects to keep in mind:
Safety - Make sure that your harness is fully capable to handle any and all situations that might arise in your day out. Whether you are planning a full day's climb or a short hike, any harness you choose must be capable of holding the cat's weight and preventing them from slipping out. I have used additional cordage to strengthen any potential weak points in Kenneth's harness.
Comfort - Use a harness that fits your cat comfortably. Many cats will simply fall to the floor in a comatose state when they are first put in a harness. Practice makes perfect.
Ease of use - Easy to put on and easy to attach to. Don't create any battles that you don't need to fight.
Water, Food, and Treats
Water is a must. It can be tough to convince a cat to drink. I try to make sure to give enough opportunities to quench his thirst. Kenneth can't tell me when he is thirsty, I have to make water available. He will almost always drink water as I pour it. Hence the small, packable bowl. Spolied. (Read more here)
Any long day definitely expends more calories than average. Food is crucial to help the cats have the energy to join us for the day. You cannot ask a cat to eat a large breakfast or carb-load the night before a long hike. Make sure food is always an option, especially when at camp.
Treats are the best. Everyone knows that. Bring the brand your cat loves best and offer tons of rewards. Calories are calories and we all need them on long days outside.
The Pack
While not entirely crucial to the operation, a good pack can serve a much needed purpose.
Aside from carrying any additional items or treats through the day, a well-planned pack can provide a great resting surface (bigger than my shoulders and better for my posture!) for cats at the tail end of a long day.
Plus, your pack can provide a great shady and safe feeling spot for the cats to rest on all the mid-day water breaks.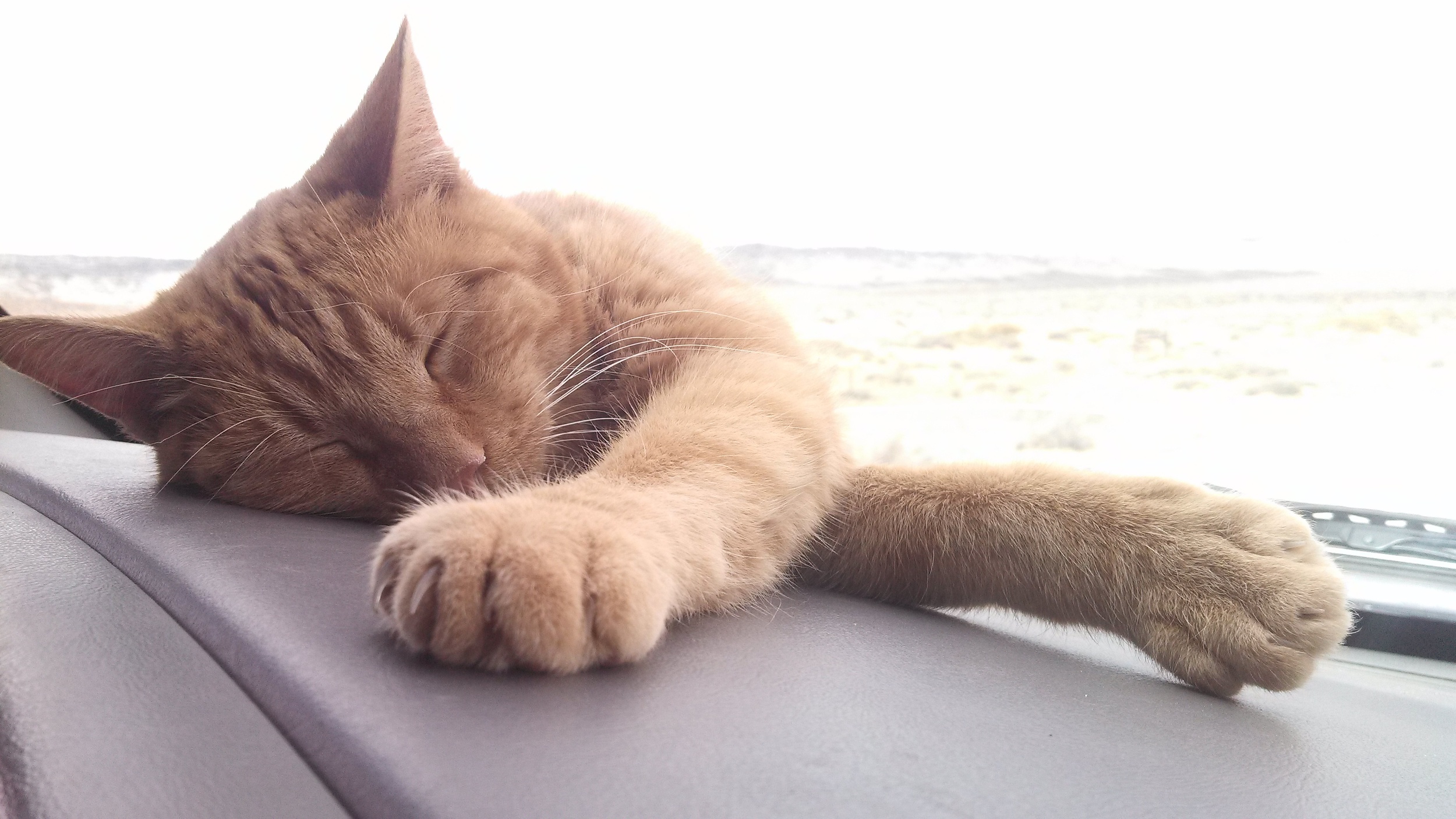 Patience
One of the most important things to bring on any trip is lots of patience. As soon as you bring your cat along with you on a trip, it is no longer your trip. It is their trip and you must abide by their needs and desires. We may pick the destination (with them in mind) but they ultimately dictate the day.
Sometimes we move too quickly past an area that I want to sit and enjoy; sometimes we linger too long in a less picturesque area. It is never my call.I try to defer to his agenda.

If you are planning on taking your cats out for some trips, this is the first piece of gear that you need to acquire.
Transportation
In this case the truck. Usually, either mine or Craig's. Unless you live in the middle of nowhere, you have got to get there somehow. City walks just don't cut it.
The more rugged the better. Like us, the cats love the solitude. Mountain and desert roads are not always the best maintained.
Also, the dashboard makes for an awesome place to sleep.
The Chair
Totally not necessary. But damn cute.
However, it is important to make sure that the cats have a safe place to call their own. Kenny kept stealing Craig's chair at the campfire until we got him one of his own.
He loves it.